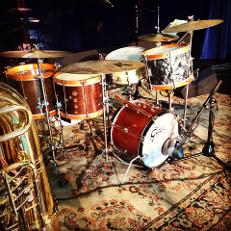 PERCUSSION
drum sets:
DW Collectors in White Marine Pearl: 22, 8, 10, 12, 14, 16, matching 14
DW Collectors Series in Blue Sparkle Lacquer: 22, 12, 14, 16 SOLD!
Ayotte Custom WoodHoop in Brown Satin: 24, 12, 14, 16
Ayotte Custom SteelHoop in Amber Lacquer: 18, 12, 14 SOLD!
Camco (1969, L.A. Badge) in Stradivarius Lacquer: 20, 12, 13, 16
Ludwig in Silver Sparkle (60's) 8x26, 13x15
Gretsch Round Badge in Mahogany all w/ wood hoops (40's-50's) 16 kick, 13, 14, 15
Gretsch Round Badge in WMP (40-50's): 24, 13, 14 FT, matching 14
Gretsch Stop Sign Badge in Burgundy (70's): 22, 13, 16
Gretsch Catalina Birch in Vintage Burst Lacquer: 20, 8, 10, 12, 13, 14, 16, matching 14 SOLD!
Gretsch Catalina Club Custom Vintage in Red Velvet with Satin Chrome: 24, 14, 16 SOLD!
Gretsch Club Custom in Champagne Sparkle: 18, 12, 14, matching 14
Sonor Safari in Silver Sparkle: 16, 10, 14, matching 14
Yamaha 1980 Tour Customs in Black Wrap: 22, 12, 13, 16, 18 SOLD!
Trixon/Vox "Conical" Set: 22, 13, 16 SOLD!
Trixon Cocktail in Black & Gold
snare drums:
Pearl Masters in Amber Lacquer: 5x14
Pearl Master in Amber Lacquer: 3x13
DW Collectors in WMP: 5x14
5x14 Pearl Masters FF Brass: 6.5x14
Pearl Omar Hakim in Mahogany Lacquer: 5x13 SOLD!
Pearl Rhythm Traveler in Black Wrap: 5x13
Pearl Steel Shell: 6.5x14
Ludwig Acrolite: 5x14
Ludwig Galaxy: 5x14
Ludwig SuperSensitive: 5.5x14
Gretsch RB (50's) in White Marine Pearl: 5x14
Gretsch RB (40's) in White Marine Pearl 6x14
Gretsch RB COB: 5x14 (x2)
Gretsch Catlina Club: 5x14
Gretsch "popcorn" snare: 5x10
Arbiter AT Maple: 5x12
Slingerland Steel Shell: 4x14
Slingerland Aluminum Shell (60's): 5x14
Pacific Steel Shell: 4x12
Ross Steel Shell 3x14
Stewart (MIJ) in Black Diamond Pearl: 5x14
other drums:
Leedy Bass Drum: 16x24
Ludwig Pioneer Bass Drum 12x26
Ludwig Timpani: 28"
More odds and ends than you could shake a stick at...
CYMBALS

hi-hats:
13" K. Zildjian Hi-Hats
13" A. Zildjian Hi-Hats (60's)
14" K. Zildjian Custom Dark Hi-Hats
14" A. Zildjian New Beat Hi-Hats (60's) SOLD!
15" A. Zildjian Hi-Hats (paper thin, 40's)
16" Sabian Apollo Hi-Hats
14" Paiste Rude Hi-Hats (80's) (SOLD!)
12.5" Vibra top, 12.5" Meinl Bottom
splashes and small crashes:
10" Sabian China Splash
12" K. Zildjian (Constantinople)
12" A. Zildjian Paper Thin (70's)
13" A. Zildjian Paper Thin (40's)
crashes and china:
14" A. Zildjian Fast Crash
16" A. Zildjian Thin Crash (50's-60's)
17" K. Zildjian Custom Fast Crash
18" K. Zildjian Crash Ride 18" A. Zildjian Medium Thin (70's)
18" A. Zildjian Concert Band Crash (Medium-Heavy - 60's) SOLD!
18" Paiste Formula 602 Band Crash (60's)
20" Zildjian Crash of Doom
20" Sabian HH China
rides:
18" Zildjian ReMix Breakbeat Ride
19" Rancan HH Flat Ride
20" Istanbul Turk Ride 20" Istanbul (Agop) Custom Dry Ride
20" K. Zildjian Custom Dry Ride
20" K. Zildjian Custom Dark Ride
20" K. Zildjian (age?) (Istanbul)
20" A Zildjian Thin Ride (50's)
20" A. Zildjian Medium Thin Ride (50's) SOLD!
20" Sabian O-Zone Ride - SOLD!
20" K. Zildjian Ride
21" K. Zildjian Custom Special Dry Ride
22" K. Zildjian Pre-Aged Dry Light Ride (80's)
22" A. Zildjian Medium Heavy Ride w/ rivets (70's)
22" A. Zildjian Marching Band (Heavy! 70's)
24" A. Zildjian Ride (60's)
24" Sabian HH Pandora Ride
24" Sabian AA Apollo Ride
WORLD PERCUSSION
LP Matador Wood Congas (set of 3 - Quinto, Conga, and Tumbadora) in Burgundy Lacquer
LP Matador Wood Bongos in Burgundy Lacquer
Hapi Drum
Remo Djembe: 14"
Remo Frame Drum: 16"
Irish Bodhran: 16"
Istanbul Dumbek
Pearl Tube Cajon LP
Ricardo Conga
Numerous traps, etc.
STRINGS

acoustic guitars:
Gibson J-29 A/E
Larrivee OM-3 Special Edition Blackwood
Taylor 514 C/E A/E
Taylor 110 Dreadnought
Takamine EG54SC-4C A/E SOLD!
Takamine C132S Classical
Cordoba C5-CE
SOLD!


Manuel Rodriguez Caballero 11
La Patrie Etude Classical
La Patrie Concert Classical A/E
Art & Lutherie Ami Nylon Cedar Top
Seagull S12+ Cedar
Seagull Merlin
Gretsch G9220 Bobtail Resonator A/E
Regal RC-1 Resonator
Martin Backpacker SOLD!
electric guitars and basses:
Gibson Les Paul Custom in TV Yellow
Gibson Les Paul Traditional in Gold Top
Gibson ES-125 (1958) in Burst
Epiphone Les Paul Traditional PRO in Black
Epiphone B.B. King "Lucille" in Black
Fender Eric Johnson Signature Stratocaster in White Blonde with White
Fender Stratocaster (MIJ - 80's) in Black with Tortoise
Fender Stratocaster HSS (Seymour-Duncans) w/ 70's Headstock in Natural with White (SOLD!)
Fender American Standard Telecaster in Burst with Black
Fender Telecaster (MIM) Lake Placid Blue with Tortoise
Fender Custom '49 Esquire "Snakehead" in White
Fender Modern Player Jaguar in Satin Brown
Fender/Gibson custom hybrid Tele in TV Yellow
Squier Cyclone SOLD!
Gretsch G100CE Hollowbody in Natural
Ibanez Artcore AS-73 Hollowbody in 3-Tone Burst
(SOLD!)


Ibanez ARC300 in Deep Brown FMT (Seymour Duncan's - HH)

(SOLD!)


Harmony Rocket Hollowbody in Deep Red (60's)
Kraftsman Semi-Hollow Body in Natural (60's)
Fender American Standard Dimension V HH 5 String Bass in Olympic White
Fender Precision Lyte Bass in Vintage Burst with actives SOLD!
Fender Custom P-Bass in Walnut with Black
Squier Fretless J-Bass (Jaco copy)
Gretsch Electromatic Short Scale Bass in Black Burst with Pearloid SOLD!
Music Man OLP MM-2 Bass in Electric Blue SOLD!
other stringed instruments:
Fender Ukulele
Washburn F-Style mandolin
Fender Banjo
Audition Banjo SOLD!
Cordoba Guilele
Violin
Banjolele
OTHER STUFF
amps:
Marshall DSL40C LE Vintage
Polytone Mini-Brute V
Fender Blues Jr.
Fender Acoustasonic
Epiphone Valve Junior Half Stack
Epiphone Triggerman 60 DSP SOLD!
Ampro Vintage Customized
Ampeg B-50R SOLD!
Fender Rumble 100
Fender Passport PA
Orange MicroTerror
Hotone Nano Mojo Legend
effects:
Boss ME-70
Digitech RP250
DOD Envelpe Filter
Digitech MultiVoice Chorus
Danelectro Mini Pedals DJ1 through DJ11
Many misc. pedals...
piano, keyboards, electronic percussion, samplers, etc.:
Roland Juno-Di
Korg microKorg
Korg microSampler SOLD!
Yamaha SK-15
Casio SK-1 (x2)
Wurlitzer MonoSynth
Wurlitzer Art Deco Console Piano (40's)
Moog Thermini Therein
Roland HandSonic HPD-15
Korg WaveDrum
Alesis DM-5 Dauz & ddrum pads and triggers
Tama TechStar TAM500
Korg Kaoss KP3
Korg Kaoss Pad (original)
Alesis AirFX
Alesis AirSynth (x2)
Bliptronic 5000 (x3)
Stylophone Beatbox
Otamatone
Tascam US-1641
Mackie Onyx
Misc. mics, etc.